Nick and I celebrated 8 years of marriage yesterday. Naturally, we have to share 8 financial lessons we've learned so far 🙃:
1. Cast a vision together
Marriage is a team sport, which means we both need to be excited about the vision for our future.
This started really small for us - envisioning life with a dog. 🐶Once we worked together using our budget to achieve that, we cast a vision for leaving our traditional jobs and traveling full-time in an Airstream. And God has continued to grow our vision from there.
Daily Bible study and prayer together is a game-changer here. It helps reorient our marriage to God and (hopefully) keeps us closer to the vision He has for our life, marriage, and finances.
Being consistent with this is relatively new for us. So I can't wait to see how God will work through this growing discipline over the next 8 years of our marriage. I can say for sure that we work together much better when we're both focused on our relationship with God.
*Extra cherry on top of this lesson sundae* - Once you use your vision to establish a budget, make sure both spouses have easy access to it for daily spending decisions. Ask us how we know this is important. 😜
2. Don't completely cut individual spending money
We spent our first year of marriage literally trying to spend as close to zero dollars as possible. Understandable considering our circumstances (living off Nick's very small intern salary while we both finished school), but not very realistic.
Having even just $10 a month for each spouse to spend on something that's important to them makes life exponentially better.
Be realistic. Don't cut back so much that you feel miserably restricted to the point you blow up the budget and stop trying.
3. Act in faithful obedience (even if it doesn't make logical sense)
After deciding to move but before finishing all the work of actually moving, we weren't established at a "home" church. So money accumulated in our tithing category due to indecision of where to give it.
Then we found this building we want to buy and started preparing for the underwriting process.
It became pretty tempting to let that money just hangout in our account until we made it through the underwriting process and finalized buying our new place in Knoxville. But when we sat down and talked about it, we both knew this was coming from a place of trusting in our bank account instead of trusting in God. So we took action.
There's no miraculous end to this story, like God making a check for that exact amount show up in our mailbox the next day. And we still don't know how all the property buying stuff is going to work out in Knoxville (we think the co-working/ apartment building is still happening, but time will tell). But I know for sure that acting in obedience to what God tells us to do helps bring us closer to Him. And there's no better reward than that.
​
*Extra extra cherry on top* - In Joshua, God is leading the Israelites into the promised land. The generation that wandered the wilderness has died, and it's a new (uncircumcised) generation that's actually going into the land. God helps them cross the Jordan (into enemy territory) AND THEN commands that they circumcise this new generation before they take the land He's giving them. That doesn't make sense in my logical brain! Wouldn't you get that out of the way before you're surrounded by enemies that know you're there to take their land?! But that wasn't God's plan. And the Israelites listen, act in obedience, and get to see how God takes care of them throughout the process. The whole tithing-money-in-the-account-situation felt a little like that. It felt "logical" to let our numbers be padded by accumulated tithing money. After all, we weren't going to spend it... just leave it there for an extra month or two. But we knew in our hearts that wouldn't be acting in faithful obedience. And even though it seem illogical, we can trust that God is with us through the process, regardless of how things workout.
4. Don't be afraid to try and change stuff
After trying and failing miserably to spend zero dollars of individual spending money, we adjusted! Not by much, but we at least gave ourselves something we could spend every month.
And after months wasted arguing over one of us (🙋‍♀️) breaking the budget that lived solely on Nick's computer, we finally changed to budgeting software we could both easily access from anywhere.
Don't be afraid to try stuff, figure out what's not working, and change it! That's how you find what works for you.
This is also how/ why we bought a house in Fairhope and sold it barely 18 months later. We wanted to try out Fairhope. It didn't work how we thought it was going to. So we embraced that and made a change. It was a pain in our butts, but now we won't look back with regret and wonder what life in Fairhope would have been like.
5. Use a values-based budget
We talk a lot about values-based budgeting - what it is, why we love it, how it helps us better communicate about our finances, etc. - in this week's podcast episode. Check it out here.
6. Foster unity
Whenever you're making a decision, especially a financial one, ask yourself: which choice will foster unity between me and my spouse.
Because in most cases, there's an option that will help bring you together (we want that one 🤗), and there's an option that will help drive you apart.
From our previous examples:
- The budget living on one person's computer = driving you apart
- A budget you're both involved with and can both easily access = unity
7. Big vision requires big patience
As our relationship has grown, our vision for the future has grown too. We envision things like restoring a historic house, adopting kids, having lots of control over our time so we can structure things with our family the way we want to, etc.
But it takes patience to work towards that!
In some ways, buying a multi-use building feels like a step backwards from our vision. But we think it's a "pulling back the slingshot" move. We're making a choice that delays us buying our dream house for now, but that should really propel us forward with financial (and, therefore, time) flexibility in the future.
But it's definitely not the choice we'd make if we listened to our inner-impatient-selves.
8. Use your budget to schedule fun together, not to cut it out
Using your money to grow your relationship is always a great investment! Obviously, you have to exercise wisdom in this area and not spend irresponsibly (that would ultimately lead to money stress and sow discord between you).
But don't get so uptight and obsessed with your budget, debt pay-down, etc. that you stop prioritizing your relationship.
Maybe you cut cable and save $100/ month… instead of putting all of that towards something like investing or paying off your mortgage faster, maybe you do that with $50 and then use $50 for an extra date night every month.
Find what works for you. But if the budget isn't helping bring you together, it's not serving you well.
What have you and your spouse learned through your years of marriage? Hit reply and let us know so we can learn from your wisdom!
​
-Hanna + Nick
​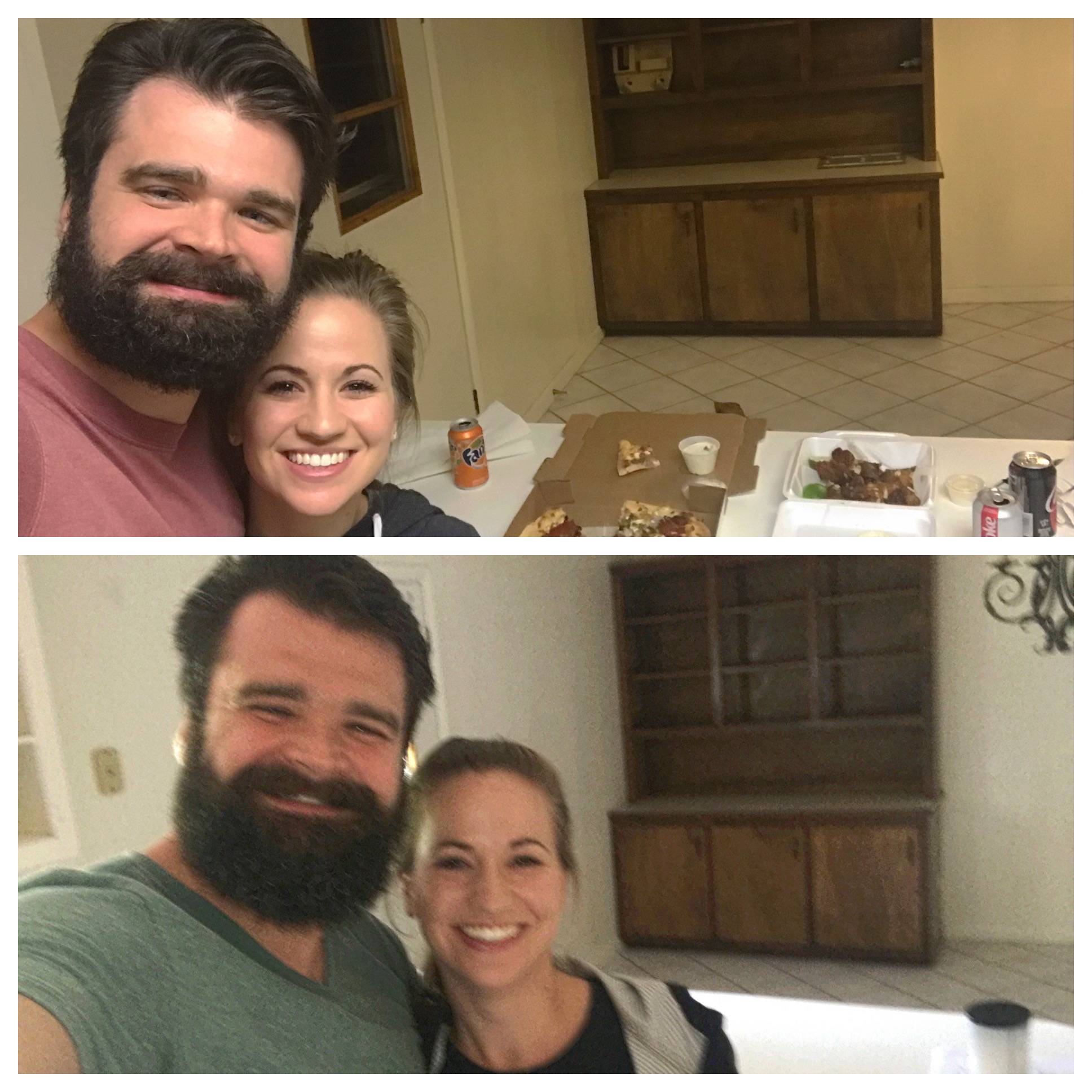 ​
​
You're receiving this email because you subscribed to the Mapped Out Money newsletter at mappedoutmoney.com
If you decide you are tired of getting emails from us, you're welcome to unsubscribe at any time through the link at the bottom of this email